LADAKH
Ladakh has some of the most breathtaking landscapes on earth, from ice capped mountains to rocky terrain, fast flowing rivers, high altitude deserts and a very rich culture, which makes it a superb destination for adventure seekers.
BOOK YOUR HOLIDAY
LADAKH – God's Own Hideout
LEH , the capital of Ladakh is situated at an altitude of 3524 metres ( 11,562 feet) and is best used as a launch pad for the wonders that surround it. From June to September, Leh hustles and bustles with tourists from around the world. The Himalayan Capital has a host of Ancient Palaces ,Forts, Buddhist Monasteries , Carpet Shops, Woolen Temptations, Tibetan Jewellery, Roof Top Restos and even Happening Pubs ! LEH signifies 'Diversity on the Roof of the World'.
The arid land of Ladakh is dotted with monasteries which are a silent witness to the unchanging beliefs of Buddhism. Fluttering prayers flags, scattered chortens holding the relies of Buddhist saints, walls carved with prayers, whirring prayers wheels, the chant of the mantra 'Om Mani Padme Hum' (Praise to the Jewel in the Lotus Flower) – all form an integral part of Ladakh's Landscape just as its soaring mountains do. This fusion of religion with the geography of its land reflects how important religion is for the people of this Himalayan Destination.
NUBRA VALLEY
Nubra Valley is accessed from Leh through the Khardung La Pass, which also hosts the highest motorable road in the world at 18,350 feet. Driving into the Nubra Valley, one can experience the enormity of the Himalayas and the Karakoram Ranges, beauty of the fast flowing Nubra and Shyok Rivers , the magic of the Buddhist prayers and the awe of the unbelievable high altitude desert . Where else in the world can one witness a desert surrounded by peaks beyond 20000 feet and a fresh water stream flowing through the heart of it. A visit to Nubra Valley transcends all imagination and shrinks your sense of self to nothing.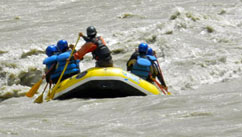 Zanskar white water rafting
If you are inclined and poised to take on the chilling white waters of Zanskar, let this be the moment of your life. Known as the Copper Canyon, Zanskar invites beginners and die-hard rafting addicts to revel in its phenomenal charm and stunning landscapes astride its course! From one day rafting experience on the Zanskar to a 7day River Expedition, Pep Turf offers you the best and safest rafting experience in Ladakh.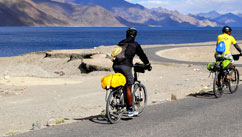 Pangong Tso
Pangong Tso , 130 km long and at a height of 4,220 m, is accessed from Leh through the Chang-La , the third highest pass in the world at 17,590 feet. At Pangong Tso, a favourite Bollywood destination, dreams and reality converge in all shades of blue and green, making it the most picturesque destination of Ladakh. The lakeside moments offer immense solitude, endless awe and plenty for the soul! Experience Luxury Camping on the banks of Pangong Tso, where there isn't anything between you and the stars.
Cycling ladakh
A voyage to Ladakh would be incomplete without displaying your skills at Cycling…you can choose to cycle within Leh , spin the wheels to Khardung La , even beyond to the Nubra Valley, or cycle on the banks of the mystic Pangong Tso, but be sure you are fully acclimatized in the first few days at Leh before you embark on this challenging ordeal..
Ladakh on Wheels
On a Motorcycle trip through Ladakh, match out of the world landscapes with your 'Never Say Die Attitude'. Pep Turf offers Ladakh sightseeing on wheels through well spaced road trips with smooth logistics. To experience the challenging terrain of Ladakh, start your road trip from Delhi/Chandigarh, drive to Manali through the beautiful Kullu Valley, after which one drives or rides through the high altitude passes and reach Leh in two days with a night halt at Jispa or Sarchu. For those who feel biking from Manali to Leh is strenuous, we offer biking within Ladakh. One can choose to ride through Khardung La to the mystic Nubra Valley, or undertake the Pangong Tso Bike Tour with a day to relax at each destination.
ITINERARIES - LADAKH
PEP TURF LADAKH (8 Days/ 7 Nights)
Day 1
Arrival Leh by air / road.
Check in into Hotel.
Settling down and acclimatization for those travelling by air.
Overnight at Leh.
Day 2
Acclimatization Day 2 for those arriving by air.
Sight seeing at Leh in the afternoon, by car.
Bonfire followed by dinner.
Overnight at Leh.
Day 3
After breakfast, move to Chilling by road.
Zanskar White Water Rafting Challenge (Chilling to Nimmu, Grade III section, 4 hours).
Lunch at Nimmu at the confluence of Zanskar and Indus Rivers.
Experience Magnetic Hill Phenomenon.
Return to Leh by evening for the Campfire ( Music and Dance Evening).
Overnight at Leh.
Day 4
Visit Khardunga La (Highest motorable road in the world).
Sightseeing Shyok and Nubra Valley. Night halt in tented camp in Nubra Valley.
Day 5
Sightseeing Nubra Valley, visit Diskit Monastery and High Altitude Sand Dunes of Hunder.
Return to Khardunga La in cars, thereafter cycle down from Khardunga La to Leh if you wish to.
Overnight at Leh.
Day 6
Visit to PangongTso by road, via Chang La.
Sightseeing at Pangong Tso.
Overnight in tented camp next to Pangong Tso.
Day 7
Return to Leh by Road. Shopping / visit Leh Market.
Overnight at Leh.
Day 8
Departure from Leh after early breakfast by air to Delhi or by road to Srinagar/ Manali.
PEP TURF LADAKH & MANALI (11 DAYS / 10 NIGHTS)
Day 1
Arrival Leh by air, check in into hotel.
No movement, acclimatization.
Day 2
Sight seeing at Leh after lunch, by car.
Day 3 to 4
Move to Khardunga La and Nubra Valley on a Royal Enfield / by Car
Sight seeing at Nubra Valley, night halt in tented camp.
Return to Leh by evening on Day 4.
Day 5
Move to Chilling in jeeps after breakfast.
White water rafting from Chilling to Nimmu (4 hours/Grade 3 Section), followed by an outdoor lunch at the confluence of Zanskar and Indus rivers.
Return to Leh by evening, experience Magnetic Hill Phenomenon enroute to Leh.
Bonfire, music and dance evening at Leh.
Day 6-7
Visit Pangong Tso by Bike / Car.
Night halt in tented camp at Pangong Tso.
Morning walk / jog/cycling next to the PangongTso, followed by breakfast
Return to Leh on Day 7
Evening at Leh , shopping / eating out.
Day 8
Departure Leh for Manali by car , night halt in tented camp at Sarchu.
Day 9
Move from Sarchu to Manali, night halt at Manali in hotel.
Day 10-11
Sightseeing at Manali .
Departure from Manali by night bus /cab.
Arrival Chandigarh / Delhi by morning/ noon on Day 11.
Onward move to parent city/next destination.
Customise Your Ladakh Trip
We customise Ladakh itineraries to suit the likes, budget and convenience of your group. Please feel free to interact with us to tailor- make your adventure holiday itinerary.
FAQs - LADAKH
What kind of accommodation is available in Ladakh?
The accommodation totally depends on your budget. From four star hotels in Leh to tented camps in Nubra Valley and Pangong Tso, or a home stay, there are a number of options one has during the Ladakh tour.
How many minimum days are required to explore Ladakh?
We recommend a minimum of 7 days if you are coming by air and 10 days if you are driving.
What about a medical emergency?
It is always better to be safe than sorry in Ladakh. We ensure our guests are properly acclimatised during the first two days if coming by flight. We carry well equipped first aid box and oxygen cylinders. There are medical centres and hospitals in Ladakh.
Will my phone network work in Ladakh?
Only post paid sim card work in ladakh that too not in all areas. You can always reach Leh and buy a prepaid J&K sim card which will also work in Ladakh.
Can I fly in by air and do a bike tour within Ladakh?
Yes, we can customize an itinerary in which you can fly to Leh and then we can provide you motorcycles for biking within Ladakh. You can explore as much as you want and can return the bike on last day.